The Brno philharmonic choir Beseda brněnská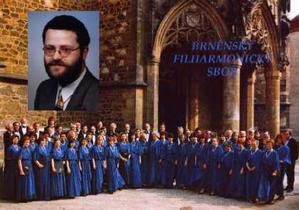 The Brno philharmonic choir Beseda brněnská has the longest tradition among Czech choirs. It has been established in 1860 by a composer and chorusmaster P. Pavel Křížkovský. Leoš Janácek was a chorusmaster for 12 years. He was leading the choir towards cantatas and oratorios and this remained the basic choir repertory until present days. In 1928 the choir under his conducting performed Janáček's famous Glagolitic Mass as the world premiere. It was then repeated in Prague and Geneve. For 20 years, Antonín Dvořák was an honorary member of the choir and for some time also Bedřich Smetana.
During last years the choir was mastered by Jan Rezníček, Jan Rozehnal, Petr Kolař and Stanislav Kummer.
Since 2001 the choir is led again by Petr Kolař, a professor of Brno conservatory and director of the choir of Cathedral of st. Peter and Paul in Brno, a historical gem in the center of Brno, the residential city of the choir. Under the mastership of Petr Kolař, the choir gained awareness of the music public again, thanks to its constructive and energetic work.
The mixed choir has now approximately 60 active members, cooperating with prominent home and foreign conductors and many important orchestras.


The Brno Philharmonic choir's repertory consists not only of great oratorial works and masses, it also features smaller units as motets and songs.


The choir also uncoventionally cooperates with many bands from the contemporary popular music scene such as a concert with a rock band Dizzy. In summer 2006 the choir accompanied the world renowned metal band Manowar on the festivals in Vizovice (Czech Republic) and Norinberg (Germany)


In 2010 the choir will celebrate its 150 birthday.